As we all know, the default WordPress notification e-mails, sent out for things such as comments, trackbacks, and new users, aren't the cleanest e-mails we've ever received. They're complete with the author's name, e-mail, website, and even IP address, all listed on their own lines. And when you're running a popular blog with lots of comments and trackbacks, it can get quite annoying to sift through all the information, especially when reading these messages on a mobile device.
Thankfully, Mike Davidson, author of the handy text replacement tool, sIFR, has created a plugin to clean up these e-mails. The aptly named Clean Notifications plugin cleans up those notification e-mails into a cleaner, to-the-point notification in your inbox.
Before: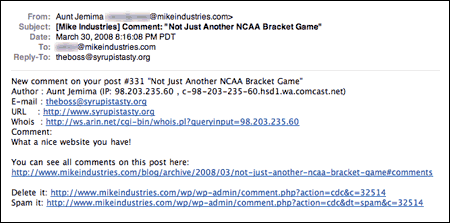 After: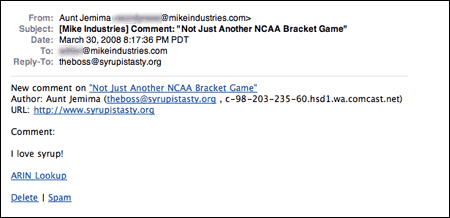 Photos courtesy of MikeIndustries.com
The Clean Notifications plugin is a free download from Mike's site.